New Zealand Farmstay and River Side Park, complete with secluded Glamping, Camping and Trout Fishing
Welcome to our historic New Zealand Farmstay and River Side Park at Waiwhenua. Our third generation family run farm has been operating farmstays since 1997. We offer our guests the beautiful new River Side Park for camping , glamping, cabin accommodation and short term stays for freedom travelers.
 River Side Glamping, Cabin and Camping
Our beautiful new River Park is now open for spring, summer and autumn camping, glamping and camper parking. We welcome guests to stay short or long term at our new River Side Park . We are open for all types of campers and travelers . Register and pay at the entrance from the road gate. No bookings are necessary!
There are some beautiful sites in addition to the permanent tent set up for your ultimate Glamping experience.
We now have open during the spring, summer and autumn our cute River Cabin. Relax and enjoy the River Park in style.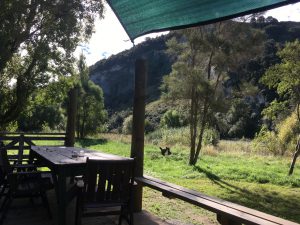 "Such an amazing place to kick back away from the rat race of life. I recommend it to everyone who would love a private place to go and chill out. Such amazing hosts in idyllic surroundings"
Farmstay Activities
Trout Fishing with Local Guides
The Tutaekauri River offers the angler top-quality fishing for a large population of rainbow trout some of which reach very large sizes. Mainly Rainbow Trout but with some Brown Trout, the fish average around 1.5 kg. However, many fish are in the 2-3 kg range, particularly in the upper reaches. READ MORE
Farm Walks
The farm has several good walks catering for all ages and levels of experience and fitness. Our most popular walk is a stroll up the pine block above the river where you will experience majestic scenery and views, plenty of bird and other wild life and fill your lungs with fresh Hawkes Bay air.
You are welcome to visit our historic Waiwhenua Woolshed and see some of the workings going on in the yards on route on the day. Our tank walk to the highest point of the farm is popular with commanding views as far as the eye can see. In the evenings you can experience the beautiful sunset over the mountains range.
A good stroll up and down the river is popular for some trout spotting and observing the wildlife including the many birds that inhabit the river area.